Ramada By Wyndham Jersey City
40.7328076498184

,

-74.0673941373825
Jersey City

,

United States

|
138US$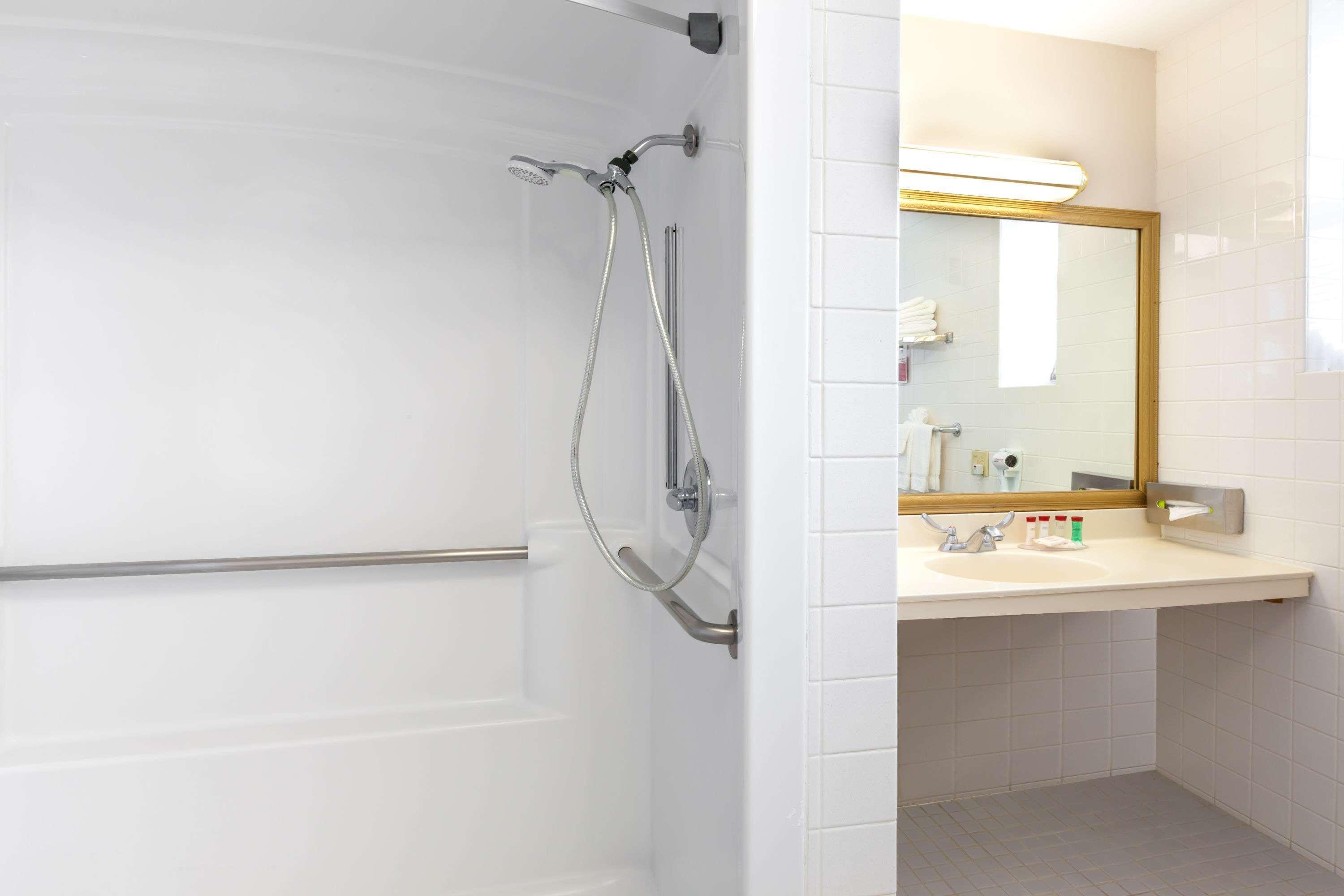 Address
65 Tonnele Avenue
,
Jersey City
,
New Jersey
,
United States
,
07306
, New Jersey
Overview
The 2-star Ramada By Wyndham Jersey City is located in the heart of Jersey City, in vicinity of parks. This comfortable hotel offers high-speed internet access in public areas and has an elevator and a vending machine.
Location
The Jersey City hotel is set approximately 0.3 miles away from Hewn Arts Center, very close to cafeterias, eateries and good restaurants. The Jersey City property is also in close proximity to Saint Peter's University, and close to a metro station. This hotel is also nestled in vicinity of supermarket, a market and stores, and the cable-stayed Brooklyn Bridge lies 15 minutes away by car. The nearby educational landmarks include Stevens Institute of Technology, which is approximately 2 miles from Ramada By Wyndham Jersey City.
Rooms
You can stay in one of the 100 air-conditioned rooms featuring wireless Internet and flat-screen television along with a coffee maker. There are separate bedrooms with queen size beds or king size beds, and private bathrooms with a hairdryer and complimentary toiletries. In addition, guests are welcome to use an a handy kitchenette with a microwave, tea/coffee making equipment and a fridge in a suite.
Eat & Drink
Guests of Ramada By Wyndham Jersey Jersey City can enjoy a continental breakfast. Morgan Fish Market & Restaurant serves Middle Eastern dishes and lies pretty near this property.
All visitors are offered a continental breakfast for a fee. 
Leisure & Business
There is a fitness center at The Ramada By Wyndham Jersey. Business travelers will benefit from a photocopy machine and a desk available at a business center on site.
Internet
Wireless internet is available in the entire hotel for free.
Guest Parking
No parking available.
Year renovated:   2008.  Number of floors:   6.  Number of rooms:   100.
Former name: Ramada Jersey City Hotel
Facilities
General
Wi-Fi
Baggage storage
24-hour services
Food/ Drinks
Shuttle
Fitness/ Gym
Laundry
Sports & Fitness
Fitness center
Tennis court
Fitness studio
Services
Free airport shuttle
Housekeeping
Laundry
Dry cleaning
Dining
Continental breakfast
Restaurant
Business
Business center
Fax/Photocopying
Room view
Sea view
Garden view
City view
Mountain view
River view
Landscape view
Room features
In-room air conditioning
Tea and coffee facilities
Ironing facilities
Rollaway beds
Bathroom
Hair dryer
Free toiletries
Media
Flat-screen TV
Cable/ Satellite television
Telephone
AM/FM alarm clock
Good to know
Check-in
from 15:00-18:00
FREE
Check-out
from 06:00-12:00
FREE
Pets
Pets are not allowed.
Rooms and availability
Queen Room Mobility accessible

Bed options:

Max:

4 persons

Bed options:

Max:

4 persons
King Room Mobility accessible

Bed options:

Max:

3 persons
Smoking

Shower

Non-smoking

Bathtub
Location
65 Tonnele Avenue
,
Jersey City
,
New Jersey
,
United States
,
07306
, New Jersey
City landmarks
Nearby
Restaurants
20 West 34th Street
Empire State Building
4.2 mi
Museum
World Trade Center Memorial Foundation
3.4 mi
Gallery
Mana Contemporary
2800 ft
Museum
Liberty Science Center
1.6 mi
Market
Lucky Farmer's Market
4800 ft
Gallery
Art House Productions
5000 ft
Park
Hoboken Waterfront Walkway
2.0 mi
Store
Hudson Farmers Market
1.2 mi
Park
Leonard Gordon Park
1.2 mi
University
Stevens Institute of Technology
2.0 mi
Market
Grove Street Path Trains
1.7 mi
2641 John F. Kennedy Boulevard
Saint Peter's University
1600 ft
Restaurant
Bengali Sweet House
1200 ft
Getting around
Airports
Newark Liberty International

(EWR)
9.4 mi
Train
Journal Square PATH Station
1400 ft
Metro stations
Grove Street PATH Station
1.6 mi
Newport Station (PATH)
1.8 mi
You can book a shuttle, once your reservation is complete.
Reviews of Ramada By Wyndham Jersey City
Charles

Also, location was comfy, within easy walking distance of Journal Square. Visited few places in the center, not too far from the hotel. Breakfast on many healthy foods.

Fred

I find the hotel functional, fairly clean and the staff is helpful and pleasant. The location is peaceful, 2 miles from an art museum. It has courteous, welcoming staff.

Mark

Very comfortable stay, as always. Overall hotel was functional and we felt safe here, loved its marvellous and decent location next to everything including the path train. Everything was great as expected, nevertheless the bathroom was a little small.

missing

Beakfast, and the gym

The window blind covers the aIR conditioning in my room

missing

I was totally disappointed! No bull up parking to check-in or load/unload your luggage. 5 Minutes walking to pay-parking. When I arrived at 5:30 pm, they claimed they don't have reservation and only one room left. I show them a copy of my booking, and then they had called booking office claiming they did not receive fax for my reservation. The reservation was delivered to their Email!!! Finally the last room reserved for me, but I have to come after an hour because the room was not ready due to maintance! No decent restaurant nearby and I will never return nor I would recommend this accomodition.

missing

I was impressed with the spacious rooms. In general it was a good choice, because path station is near by (10 min) and after that Manhattan noise it was a good rest, because it was quiet around. Maybe this is not the best place to stay in New Jersey, but definetely its completely safe.

missing

Proximity to nyc

The bathroom was old and was in need of repairs. The air conditioner was noisy

missing

I loved the location. It was close to the metro and parking was reasonable. The staff were super helpful and they attended to all problems quickly. I loved free wifi and the big room that fit six of us comfortably. Fantastic value for the money. I would definitely rebook!

missing

Old, dilapidated hotel room itself. Furniture too old. Very noisy air conditioner.

missing

The front desk staff was great. Very helpful with directions, suggestions, and help with an issue with the room. Breakfast was a pleasant surprise- very good, fresh fruit, cereals, pasteries and even breakfast sandwiches that were available.

The room where I stayed had the lamp unplugged (I assume from Houskeeping vacuuming) and the overhead light switch was behind the TV....so I walked into a dark room and could not find any lights!! Also, the whole facility had a faint smell of fried...something. Could use a fresher scent in the hotel

missing

Please do not go here. The place is a dump. It is in a seedy and grimy area and the staff embody the spirit of the surrounding area..on a scale of 1-10 (1 being horrible and 10 being fantastic) I would give it - (minus) 500000. The charge about 150 usd anything above 15 usd per night is a waste of money for this place

missing

This hotel is great! The deluxe room was very big: a great 3 people bed plus a single (but it's confortable also for 2 people) big bed. You have microwave and refrigerator in the room and if you need it, in the hall there are some machines with precooked food, icecream and so on.

The only little problem was the connection with ny city.. The path is really good, but during on Sunday it has only a kind of train that go from nyc (Downtown) to Journal Square, and it has a long stop in Hoboken! We lose our bus to Boston because of this stop. So get prepared and leave early from nj city!

missing

It was very clean, well maintained and the staff was very helpfull, we would definently stay there again.

The neighborhood was not that good.

missing

- rooms extremely smelly of the parfum they spray for removing stinks. Gives a headache after an hour & one cant breathe ! - AC not working - very noisy rooms late at night and early morning, close to a road - small toilets with very unhandy design (toilet pot right next to a hand basin (5 cms in between) - locality is really crap, unsafe to even walk after 9 pm.

missing

i thought it was clean and adequate for what we needed during our trip. The free breakfast was limited, but nice. THe room was quite large and clean. It was a nice stay.

Be aware there may be no space available to load/unload car without double parking on busy street. No hotel parking. Public lot 2 blocks away at $12/day
FAQ about Ramada By Wyndham Jersey City
What is the distance from the comfortable 2-star Ramada By Wyndham Jersey City to Jersey City city center?
Jersey City city center is reachable within a 15-minute walk from the comfortable 2-star Ramada By Wyndham Jersey City.
Which attractions can we visit during our stay in Ramada By Wyndham Jersey?
The copper Statue of Liberty, set within 3.3 miles from Ramada By Wyndham Jersey as well as The High Line Park placed just a 15-minute drive away are well worth visiting. If you want to explore even more landmarks in Jersey City, visit Lincoln Urban Park, which is located 1.2 miles away.
Which landmarks are the closest to the comfortable 2-star Ramada By Wyndham Jersey City?
Staying at the comfortable 2-star Ramada By Wyndham Jersey City, guests will have a chance to visit Justice William J. Brennan Jr. Courthouse located just 10 minutes' walk from the property, and attend the closeby attractions, Hewn Arts Center (0.3 miles) and Boyd-McGuiness Park (0.4 miles).
Can I eat breakfast at the 2-star Ramada By Wyndham Jersey City?
Yes, guests can enjoy continental breakfast provided by the 2-star Ramada By Wyndham Jersey City.
What is check-in and check-out time at the hotel?
Guests of the hotel can check in from 3 PM to 6 PM and check out from 6 AM.
Which facilities are offered in the rooms of the Jersey City hotel?
All rooms of the Jersey City hotel feature coffee/tea making facilities as well as a personal safe, some of them boast a couch.
Are there any business facilities featured at the comfortable 2-star Ramada By Wyndham Jersey City?
For business travelers the comfortable 2-star Ramada By Wyndham Jersey City offers a business center with a photocopy machine and a desk.